Demystifying the DSP - Part 1
DSP? 
A search on Google will tell you that Digital Signal Processing (DSP) is the use of digital processing, such as by computers or more specialised digital signal processors, to perform a wide variety of signal processing operations. The signals processed in this manner are a sequence of numbers that represent samples of a continuous variable in a domain such as time, space, or frequency... Blah blah blah! If that didn't make much sense to you, it's because the term DSP has become a generic term for many kinds of processing of a digital signal. Digital Signal Processing is used by your cellphone, your camera and most of your other digital devices. What we are concerned with here is the use of Digital Signal Processing in Car Audio.
Chances are that you are someone who has just bought a new car with an audio system built-in or have just had an aftermarket premium audio system installed in your car but are still not satisfied with the sound quality you are getting. The likely solution to your problem is a Sound Processor.
What are Sound Processors?
Sound Processors come in many varieties to solve different issues. Up till a decade ago, these processors were mostly analog in nature and were separate units. You would pass the signal from your Head Unit to the first and then to the other and then eventually to your amplifiers.
Some examples of analog sound processors in car audio are:
- Equaliser > These help in fine-tuning the music of your car to your specific taste as well as the acoustics profile of your car. The purpose of equalisers is to remove any peaks and dips in the response  that can hamper the listening experience and smoothen out the frequency response of the audio system.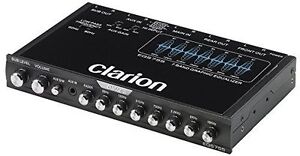 - Crossover > The job of a crossover is to divide the different frequencies into high, medium and low. These frequencies are then channeled into the correct speakers to get the best out of the system. Electronic crossovers allow a greater degree of control over the sound quality and help in the elevating the entire experience.
- Line Driver > A Line Driver essentially amplifies the line output of your head unit so the line voltage does not fall by the time it reaches the amplifiers.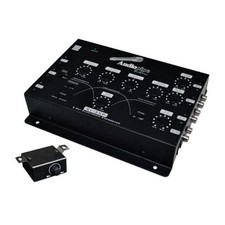 - Line Out Convertor > A line output converter is required to convert the sound coming from an factory head unit and output it to amplifiers. The volume output is increased without straining the amplifier and this also helps reduce the level of noise from the audio system
So what is a Digital Sound Processor?
Thankfully it's 2018 and everything is Digital! Today there are sophisticated Digital Sound Processors that do all of the above device's jobs and do it better with a small footprint.
The microprocessor inside the Digital Sound Processor is the brain of the system that let's an installer / tuner setup your system by selecting and programming the right parameters for your system, car and preferences. Advanced tools like Equalisers, Crossovers, Line Conversion, Phase and Delay are all available at the click of a mouse through a GUI on a Laptop/Tablet/Phone.
Do you really need a DSP?
This question can be difficult to answer because it involves knowing what you want from your high-end car audio system. Here are some questions that you should answer that will help you. Do you have a high-end car audio system? If the answer is yes then you are someone who wants to get the max out of your investment and a DSP will certainly go a long way in helping you out there.
Of course, 'high-end' can mean different things to different people so let's break that down a little further. Are you someone who has had a component speaker system installed in your car? Go for the DSP. It will give it a boost that you can barely imagine.
If your car audio setup is one where there are more than one amplifier systems in place then you absolutely must install a DSP. It can be tricky controlling a complex audio setup and a DSP will help you do that with relative ease.
Another important thing to consider is your budget. Not all of us are born with limitless resources so ask yourself if you have the money to invest in a DSP for your car audio system? If the answer is a no, then we recommend holding off till you can save enough money otherwise you are not getting the best out of all the money you have put in it until now as well. The last question may actually the most important one of all. How much do you care about sound quality? Not everyone needs to get the best possible music from their speakers, not even everyone who splurges on a high-end car audio system. If you are one of these people then give the DSP a miss.
If you are, however, someone who cares deeply about music and believes that a good tune can uplift your mood then you owe it to yourself to hear music the right way. It's something you are never going to go back from.
Conclusion
To you, as someone who does not have much knowledge of what goes into making a high-end car audio system tick, the various number of components you need can seem excessive and that's understandable.
Once you dive down this rabbit hole, however, there is no point in going half-hearted because the end result is not going to be as good as it should be. A DSP may just be the final piece of the puzzle that your car audio system needs.
Remember, at the end of the day a good DSP is a good tool. It will not automatically improve your sound. To get the best results from it it has to be tuned by the right person who understands your needs and your system.